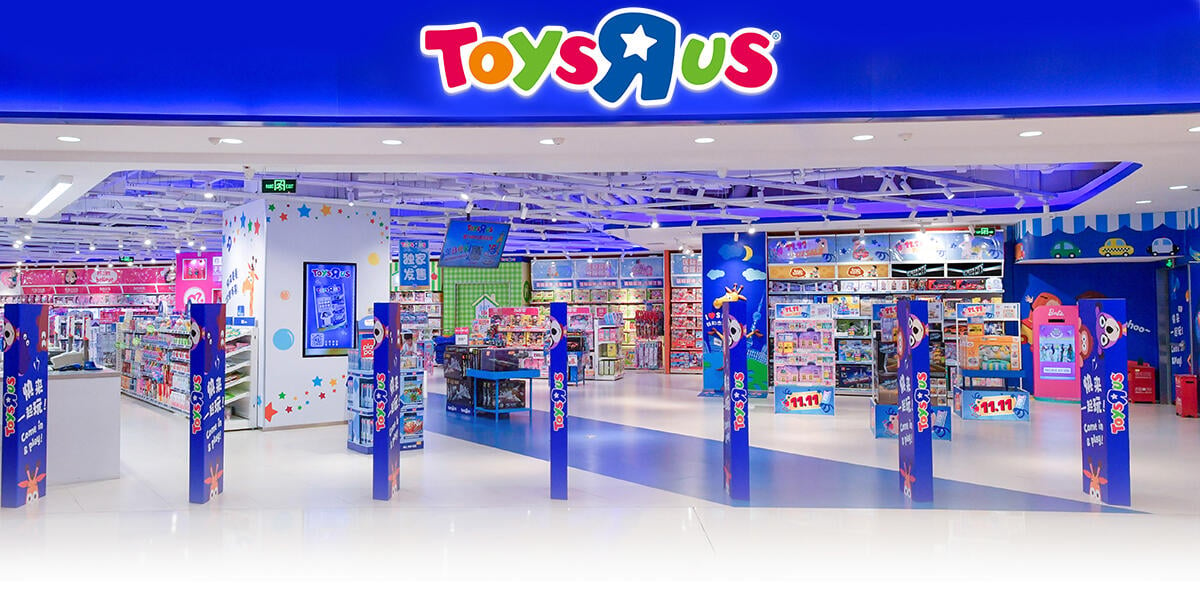 About Toys"R"Us Asia
Toys"R"Us is Asia's leading retailer of toys, games, leisure euipment and educational products, as well as baby essentials as part of its Babies"R"Us brand. Toys"R"Us Asia's vision is to fuel imagination and inspire our next generation through the power of toys and play. The company's mission is to be the trusted toy leader, providing premier toys and inspiring play experiences for both kids and kidults.
Toys"R"Us Asia is headquartered in China's Hong Kong Special Administrative Region and currently operating approximately 470 stores across Asia, including mainland China, Japan, Malaysia, Hong Kong China, Singapore, China's Taiwan Region, Thailand and Brunei - and licenses more than 90 stores in the Philippines and China's Macau Special Administrative Region. In addition to its brick-and-mortar stores, the company also operates across leading Asian eCommerce platforms as well as its own online stores in each market
Toys"R"Us and Babies"R"Us offer a carefully selected range of quality local and international brands, innovative and exclusive products, engaging loyalty programs as well as interactive and immersive in-store play experiences that inspire learning at every stage of a child's development.
Toys"R"Us Asia (Holding) Limited is an independent legal entity that operates separately from all other Toys"R"Us current or former operating companies around the world.
Toys"R"Us operates over 230 brick-and-mortar stores across mainland China. For more information: www.toysruschina.com
About Toys"R"Us China
Toys"R"Us Asia made its foray in the Chinese mainland market in 2006. By June 2023, it has over 230 stores in more than 60 cities, including Beijing, Shanghai, Shenzhen, Chengdu, Hangzhou, Guangzhou, Nanjing and so on.
A key brand differentiator for Toys"R"Us is the WOW experience it provides for its customers. This WOW experience fuels imagination through a combination of the widest range of toys and juvenile products, items exclusively available at Toys"R"Us, unique store layouts, in-store ambience, product displays and demonstrations, interactive activities and family fun.

Full Range of Toys
Toys"R"Us has a full range of quality, authentic products distributed across the store in seven distinct zones: Hot Toys, Action & Vehicle, Make Believe, Family Fun & Games, Sports & Outdoor Fun, Learning & Fun, and Baby & Toddler Development. All stores feature attractive product displays, demonstration areas, see-me touch-me packaging and a large proportion of products that can only be found at Toys"R"Us.

Exciting Selection of Educational Toys
The educational value of toys is important to Toys"R"Us, just as it is to Chinese parents. That's why every item at Toys"R"Us is thoughtfully selected to help kids develop physical, emotional and social skills through key developmental stages as they have fun. Its comprehensive range of toys provide different educational values to help children learn essential skills, such as language, mathematics, geography, color-differentiation and movement and coordination abilities.

Exclusive Toys"R"Us Brands
Toys"R"Us has one of the best selections of high-quality Private Brand products that parents can trust and which fuel the imagination of children. These new ranges of play and learning toys have been designed to be more modern and stylish with realistic details. The Toys"R"Us Private Brand range has been developed by its team of experts with decades of experience, offering superior value because they're toys that grow along with children as they develop their skills, making them last longer. There are several product lines available exclusively at Toys"R"Us.
Speed City - quality die-cast vehicles, play sets, remote control and accessories that empowers children to imagine a world of fast pace urban city life, that they're in charge of.
Baby Blush - a beautiful line of dolls and baby care accessories for children aged 2 and up who want to take care of their own baby, just like mom and dad.
Top Tots - toys that help toddlers with motor skills, muscle movement, problem solving, coordination, memory and more - everything they need as they grow.
Play Pop - fun new games bringing families and friends together – from action-packed or strategy games to brain-teasing or downright silly games.
Creation Nation - with Creation Nation, every child can bring their individual creativity to life. Whether they're shaping, moulding, drawing, writing, playing, cutting, sticking or painting, if they can imagine it, they can make it!
Friends for Life - our Friends for Life soft, plush toys can stimulate a baby's senses, develop social and emotional skills and provide comfort. They listen and love unconditionally as babies and children learn and discover their world.
dear BABY - our Dear Baby range has been specially curated to give new parents everything they need to care for their precious new addition to the family, with quality products to support sleep time, feeding time, bath time or going-out time, and everything in between.
Discovery Academy - explore the world with Discovery Academy, our range of science and exploration toys that makes learning fun and helps every child nurture their curiosity, build knowledge and enhance their understanding about the world around them in a fun and exciting way.
My Story - encourage children to take control of their own world through imaginative and immersive role play with My Story, a range of costume and lifestyle toys that helps a child develop imagination, critical thinking, and socialization skills, building empathy and confidence as they explore and pretend.

Safe, High Quality Products
Safety and quality are top priorities for Toys"R"Us. Parents and customers can find safe and environmentally friendly toys in our stores. All products are made to the highest quality standards and have passed all required safety tests. Toys"R"Us' products are fully compliant with safety standards of China and many other countries and regions. In China, our products meet the CCC certification requirements.
Accelerated Digital Transformation and E-commerce Expansion
Toys"R"Us launched its Tmall Store in April 2012, adding to a diverse range of online platforms for customers to access its wide range of products. In October 2022, Toys"R"Us' new online flagship stores landed on JD.com and Douyin. In March 2023, Toys"R"Us launched its private domain mall - Toys"R"Us Selected on WeChat, providing an enhanced shopping experience to consumers through its integrated online and offline operations. In April 2023, Toys"R"Us strategically started its collaboration with Meituan Takeout to launch an instant retail business.
Thanks to an extensive online reach, hundreds of millions of Mainland customers can access one of the greatest ranges of toys, be confident of product authenticity and rest assured thanks to the toy safety guarantee found at Toys"R"Us.
"Star Card" Membership Program
Customers can join the Toys"R"Us "Star Card" Membership Program via Toys"R"Us official WeChat account. "Star Card" members enjoy exclusive access to a range of special privileges in-store and as well as with various 3rd party promotion partners all year round. They also enjoy special offers and promotions during Children's Day, Summer Holiday, Christmas and Chinese New Year. Members' children will receive E-coupons as gifts in their birthday month.